Subscribe to all library from $5 per month and get unlimited access to all movies
Subscribe
Photos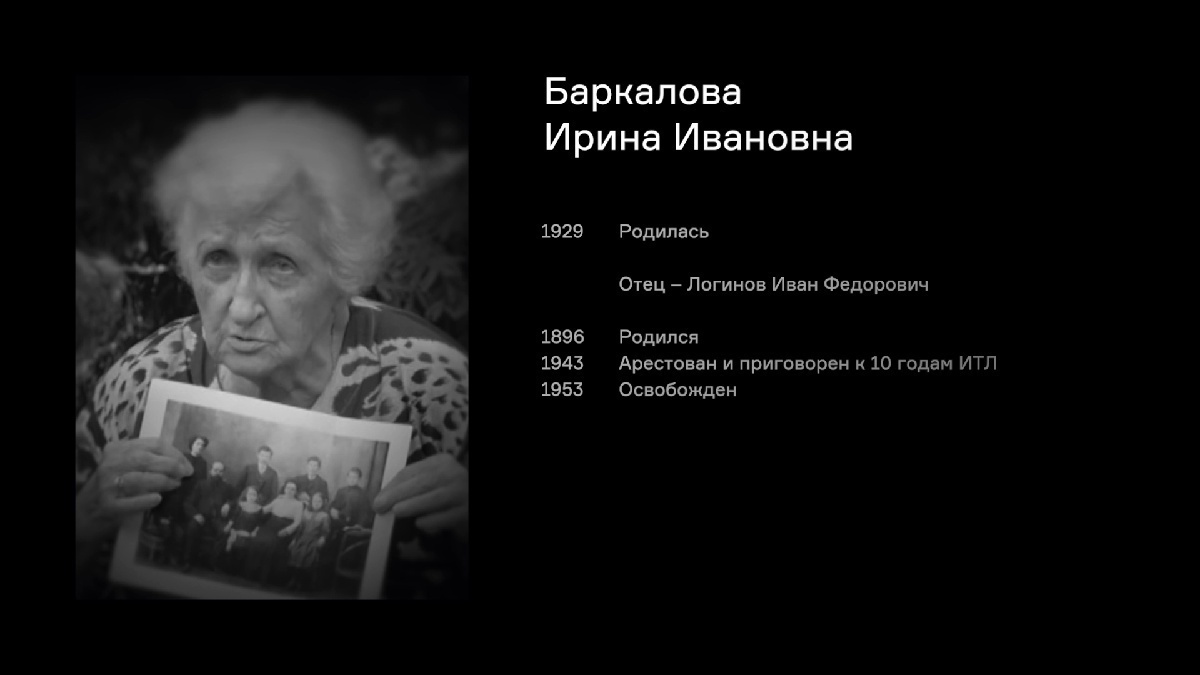 Details
Storyline
The project "My GULAG" of the Gulag history museum collects the memories of people who are put together in one film, consisting of many separate stories — an endless stream of human destinies, through which the mass repressions of the Soviet time passed. Eyewitnesses of these tragic events eventually leave us, and most of them do not leave evidence. That's why it's so important to record their memories. This is a movie that will not end until the last hero passes away.
Irina Ivanovna Barkalova was born on may 3, 1929 in Moscow in the family of Loginov Ivan Fedorovich (b. 1896) and Loginova Lyudmila Dmitrievna (b.1905). She was an only child.
Ivan Fedorovich worked as an engineer, Lyudmila Dmitrievna was a housewife. In August 1941, I. F. Loginov was taken to the front, he received the rank of captain and after the Leningrad front was transferred to the Ukrainian. In 1943, he was arrested under article 58.10 and sentenced to 10 years of ITL. The family found out about his arrest by accident.
During the war, Lyudmila Dmitrievna worked as a counterwoman in a pastry shop, then together with her young daughter was sent to Rybinsk for four months for logging. After suffering from severe malaria there, she was returned to Moscow ahead of schedule.
Irina Ivanovna at the age of sixteen went on a date with her father to a camp in Ukraine. After his release, my father stayed in Ukraine with Polina Andreevna, a woman he met in the camp. In October 1953, he came to Moscow illegally. He maintained good relations with his family until the end of his life, and adored his daughter. He lived the rest of his days with Polina Andreevna in Feodosia, where he died at the age of about 90 years.
Irina Ivanovna graduated from technical school and worked. At the age of 23, she fell in love with Vladimir, a KGB officer. They were soon married. He had to leave the KGB, but even when they offered to return, he refused. They lived together for 60 years until his death.