Subscribe to all library from $5 per month and get unlimited access to all movies
Subscribe
Photos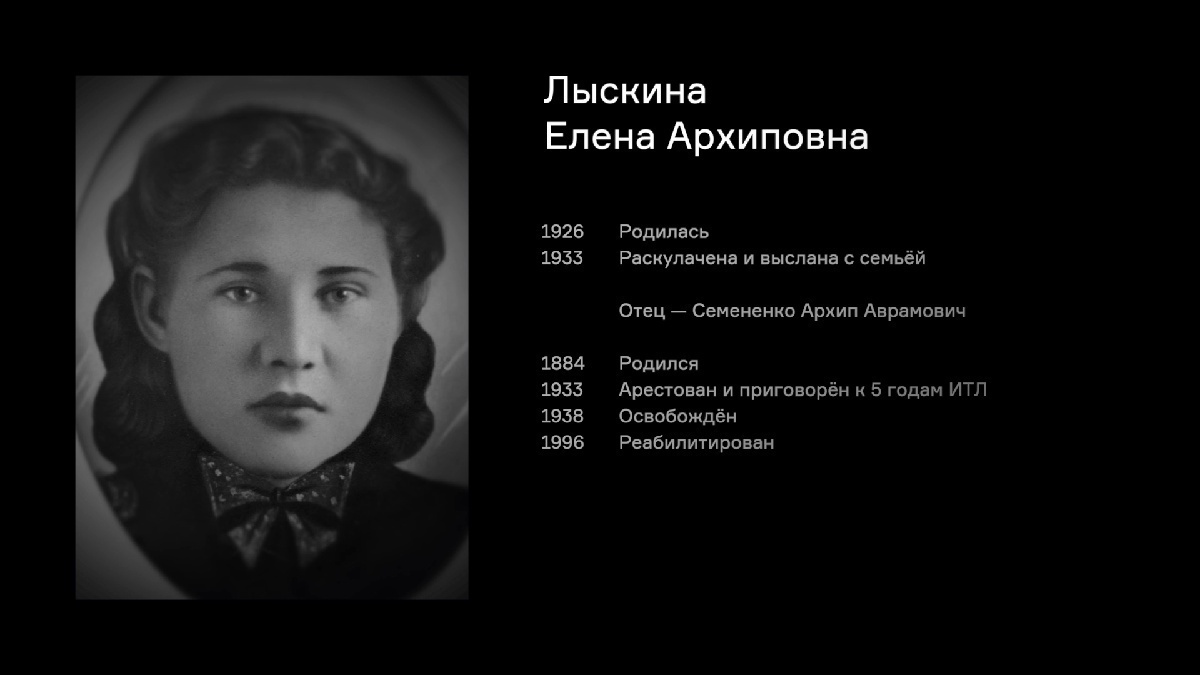 Details
Storyline
The project "My GULAG" of the Gulag history museum collects the memories of people who are put together in one film, consisting of many separate stories — an endless stream of human destinies, through which the mass repressions of the Soviet time passed. Eyewitnesses of these tragic events eventually leave us, and most of them do not leave evidence. That's why it's so important to record their memories. This is a movie that will not end until the last hero passes away.
Lyskina Elena Arkhipovna was born in 1926 in the family of semyonenko Arkhip Avramovich (1884-1951) and semyonenko Elizaveta Fedorovna (1886-1959) in the village of Milogradovo, Primorsky Krai. The family had seven children.
Arkhip Avramovich went through the first Civil war, was twice wounded and awarded the second Nicholas. In Milogradovo, he was a peasant. Together with his wife and daughters, he built a house there.
In January 1933, Arkhip Avramovich was arrested under article 58 and sentenced to five years in prison. Sent to Vladivostok. Released ahead of schedule.
Six months after his arrest, his wife and four children were dispossessed and evicted from their home. Elizaveta Fyodorovna managed to move to the settlement with her husband. The family moved a lot, and everyone worked during the war. Elizabeth Feodorovna treated children. After her release she lived with her husband in the village Terter. Both died there.
Elena Arkhipovna finished seven classes, then courses of tractor drivers, then passed courses of accountants. In 1947, she married Mikhail Ignatyevich Lyskin (1918-2003). Since 1958, Elizaveta Arkhipovna moved with her husband to Krasnoyarsk. After working as an apparatchik at the factory, she got asthma. After that, she worked in the management as an accountant.
The couple had no children. Mikhail Ignatievich died in 2003. Elizaveta Arkhipovna lives in Krasnoyarsk. At the moment, of all her brothers and sisters alive only brother Nikolai (b. 1931).