Subscribe to all library from $5 per month and get unlimited access to all movies
Subscribe
Photos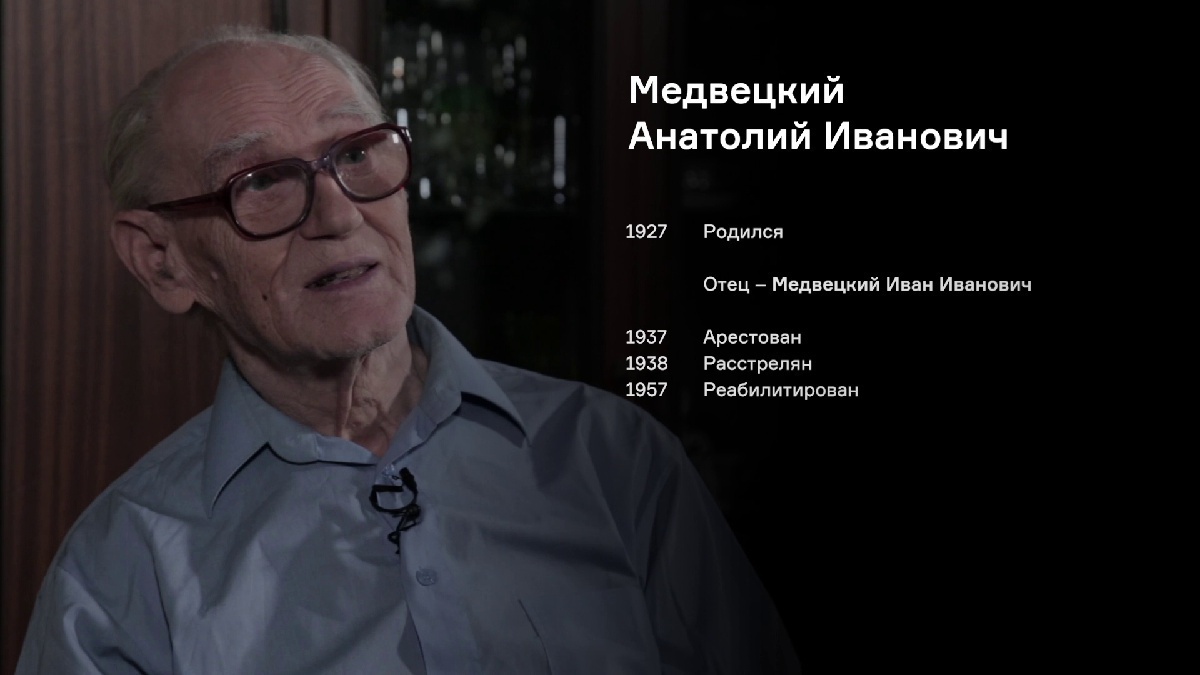 Details
Storyline
The project "My GULAG" of the Gulag history museum collects the memories of people who are put together in one film, consisting of many separate stories — an endless stream of human destinies, through which the mass repressions of the Soviet time passed. Eyewitnesses of these tragic events eventually leave us, and most of them do not leave evidence. That's why it's so important to record their memories. This is a movie that will not end until the last hero passes away.
Anatoly Ivanovich Medvetsky was born on June 9, 1927 (according to his passport, June 2, 1928) in the village of Makhnovka, Zhytomyr region of Ukraine. Together with their older brothers and parents, they lived in a small Adobe house. Anatoly Ivanovich's father, Ivan Ivanovich Medvetsky, was born in 1898 in the same village and worked as a shoemaker in promarteli. By nationality, he, like his wife, were poles, and he learned the shoemaking trade in one of the workshops that the Jews kept. At that time there was a large Jewish community in makhnovka, and Ivan Ivanovich's family was on good terms with It.
In the fall of 1937, two men in civilian clothes came to their house. On that day, Ivan Ivanovich went to another city for materials, and when they did not find him at home, they asked them to tell him to come to them. When the father returned, his wife and children tried to persuade him to run away: at that time, many men in their village were already arrested. Ivan Ivanovich did not believe that he could be convicted without any guilt, and the next day appeared in the NKVD of his own free will. Initially, he was placed in a prison in Berdichev, and shortly before the verdict, he was transferred to the Vinnytsia prison. On February 2, 1938, Ivan Ivanovich Medvetsky was sentenced to capital punishment "for political reasons without specifying the article of the criminal code" and on April 1 of the same year, he was shot. At the time of his arrest, Anatoly Ivanovich's mother was pregnant and, while the investigation was underway, she gave birth to a girl. Unable to feed such a large family alone, she gave her daughter to her sister to raise, but this did not save the girl from starvation, and she died before her first birthday.
A year after the shooting of Ivan Ivanovich, wanting to learn about the fate of his father, the boy wrote a letter to Stalin and soon received an answer: "Tolya! Your father is an enemy of the people ... he wanted to destroy the Soviet Union. Refuse it». Only an accidental combination of circumstances did not allow Anatoly Ivanovich to follow this advice.
During the war, the village where the Medvetsky family lived was occupied. One night one of their Jewish acquaintances knocked on their door and asked them to shelter him: that night several hundred Jews — almost the entire community in Makhnovka-were shot. In 1942, the Germans discovered in the area of Vinnytsia prison a mass grave of those shot during the Great terror, and local residents began to come to this place for identification. Anatoly Ivanovich went there with his grandmother, but she lost consciousness from the stench, and they were not able to find the body of Ivan Ivanovich. On the same day, the Germans invited them to their headquarters, where they gathered relatives of the repressed, so that they would record in detail the events of five years ago.
After graduating from medical school and completing postgraduate studies in Kiev, Anatoly Ivanovich Medvetsky received a place in the Kremlin hospital and moved to Moscow. Despite the fact that his father was rehabilitated on December 21, 1957, he was afraid to indicate in the questionnaire that he was shot. In the 90s, Anatoly Medvetsky came to Vinnytsia to get acquainted with the personal file of Ivan Ivanovich, and found in it his letter to Stalin. So he realized that it never went further than Vinnytsia.